This year everything is a little different. Of course, this also meant that our Christmas party could not take place. So we thought about doing something good instead and wanted to support institutions that are close to our hearts. So we donated a total of € 1.500, which we divided between two organizations. In addition, we donated another 2.000 of our James masks to social institutions.
Part of the donation of 750,- Euro went to the Hospizverein Pfaffenhofen e.V. This association accompanies seriously ill people and those close to them on their journey to death. We are very happy about this decision, because what is done here deserves our utmost respect and recognition. On the first picture you can see our managing director Bernhard Schmidt who is presenting the 1st chairman Dr. jur. André Schneeweiß of the Hospizverein Pfaffenhofen e.V. presented the symbolic check.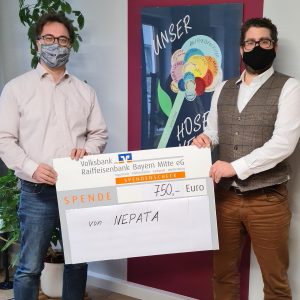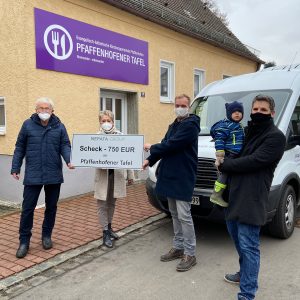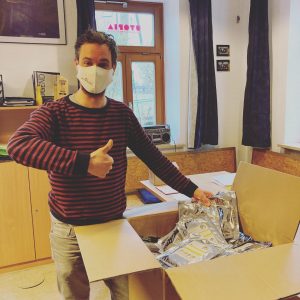 For all of us, this was a turbulent year with new challenges. Nevertheless, it should not be forgotten that there are enough people who have to brave even much greater challenges. During the donation of masks that we made at the beginning of the year, we were allowed to take a look behind the scenes of the Pfaffenhofener Tafel. The commitment of the volunteers is really great and impressed us a lot. Therefore, we have decided to make a contribution here as well and have symbolically handed over a donation in the amount of 750,- Euro to the chairman of the association for the promotion of the Pfaffenhofener Tafel e.V. Dr. Hans Kern.
In addition, we have given 1.000 pieces of masks David as a donation in kind, Mrs. Anne Bienlein, the head of the Pfaffenhofener Tafel was also very happy about it. We hope we could contribute a very small part. On the 2nd picture you can see the chairman of the Förderverein Dr. Hans Kern, Tafelleleiter Anne Bienlein and our managing directors Fabian Franke and Oliver Tiedemann with son Lukas. (l.t.r.)
We donated the other 1.000 masks named David, unprinted and printed, to the old and new Pfaffenhofen Youth Parliament. Matthias Stadler, the city youth worker, gladly accepted them and was very pleased as can be seen in the third picture.
The Nepata Group is happy to have made a small contribution and to bring joy to others, especially in such a difficult time.