Recently, shipping and freight costs have quadrupled in some cases. The international trade in films threatens to become unprofitable. Nepata CEO Fabian Franke knows a way out: jumbo rolls.
By NEPATA CEO Fabian Franke, March 2022
Summary
Many films and similar products are produced in Asia, but mainly distributed in Europe, USA or Oceania. Film distributors can save up to 70% on ocean freight costs by purchasing so-called jumbo rolls from manufacturers. Only in the destination country are these converted to commercially available rolls of 25, 50 or 100 meters. In this post, I will introduce you to this strategy. And you will learn how this can be realized with NEPATA solutions with manageable investments compared to an industrial slitter/rewinder.
Trade in films for advertising technology and textile finishing – a global business
Supply chains were and are disrupted because of the COVID-19 pandemic. Energy prices have been rising for months, most recently due to sanctions against Russia. At the same time, the demand for products and raw materials is growing as the economy picks up again in many places. In short: international freight capacity is scarce – and expensive Shipping and freight costs have quadrupled in some cases since last year.
International trade in films and similar products is also affected. Flock films, flex films, self-adhesive films, protective films etc. – these and similar media are often produced in Asia. However, the buyers are mainly in Europe or the USA. In addition, there are trade relationships between manufacturers and distributors from the USA and Europe or remote countries such as Australia and New Zealand.
How wholesalers and distributors can optimize freight costs
Film rolls sometimes cover long distances. The problem in film logistics: the freight costs drive up the product prices extremely. Business models are in danger of becoming unprofitable. Film dealers, especially wholesalers and distributors, must therefore try to reduce the freight costs for the goods. A promising strategy is to purchase so-called jumbo rolls from the manufacturers. These have a running length of more than 1,000 meters and are only rewound in the destination country directly on site into standard rolls of 25 m, 50 m or 100 m. Above all, this saves volume weight in sea freight – a decisive factor for freight costs.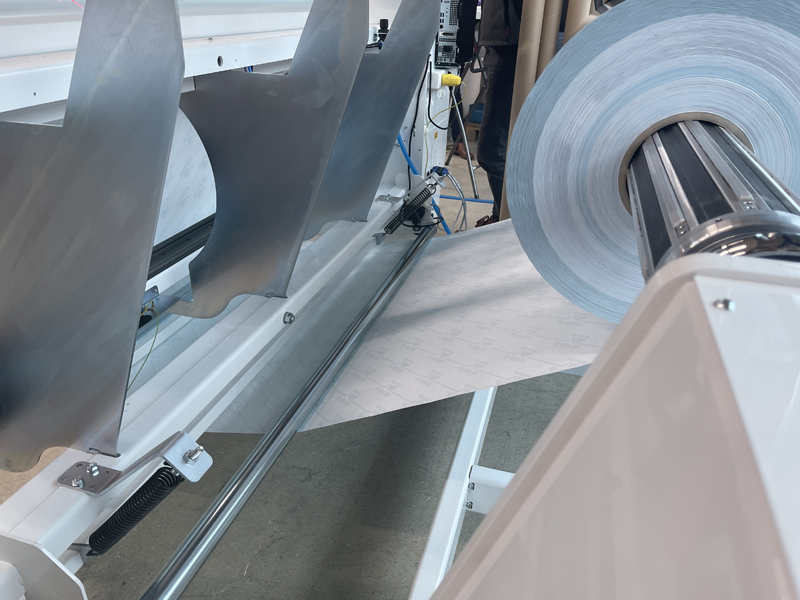 A calculation example : a jumbo roll with 1,500 running meters of film has a diameter of around 70 cm and is 1.22 m high – a volume of only around 0.6 cubic meters. If the same goods are shipped as 50-meter rolls, this corresponds to 30 rolls in individual cartons. The space required for this: 1.5 Euro pallets or almost 1.8 cubic meters – three times as much as the jumbo roll! Our calculations have shown that depending on the material, jumbo rolls can save 50% to 70% of the costs for sea freight.
Interim conclusion: Jumbo rolls can save 50% to 70% of costs in ocean freight.
Convert jumbo rolls for resale
Of course, purchasing large rolls of adhesive film & Co. is not enough. The film dealer still has to rewind the jumbo rolls into standard short rolls and cut them to length. Now, for example, the rewinders from Nepata can unwind rolls with a maximum diameter of 40 cm due to their design. This means that an additional investment is first required in order to be able to pursue the "jumbo strategy". But this investment is surprisingly moderate and promises a quick payback.
At Nepata, we have developed what we call a Jumbo Companion: an optional unwinding that operates directly on a conversion center or a rewinding machine. With the jumbo unwinder, rolls with a diameter of up to 100 cm and a weight of 500 kg can be unwound and wound and cross-cut precisely as usual with the NEPATA machine (and software).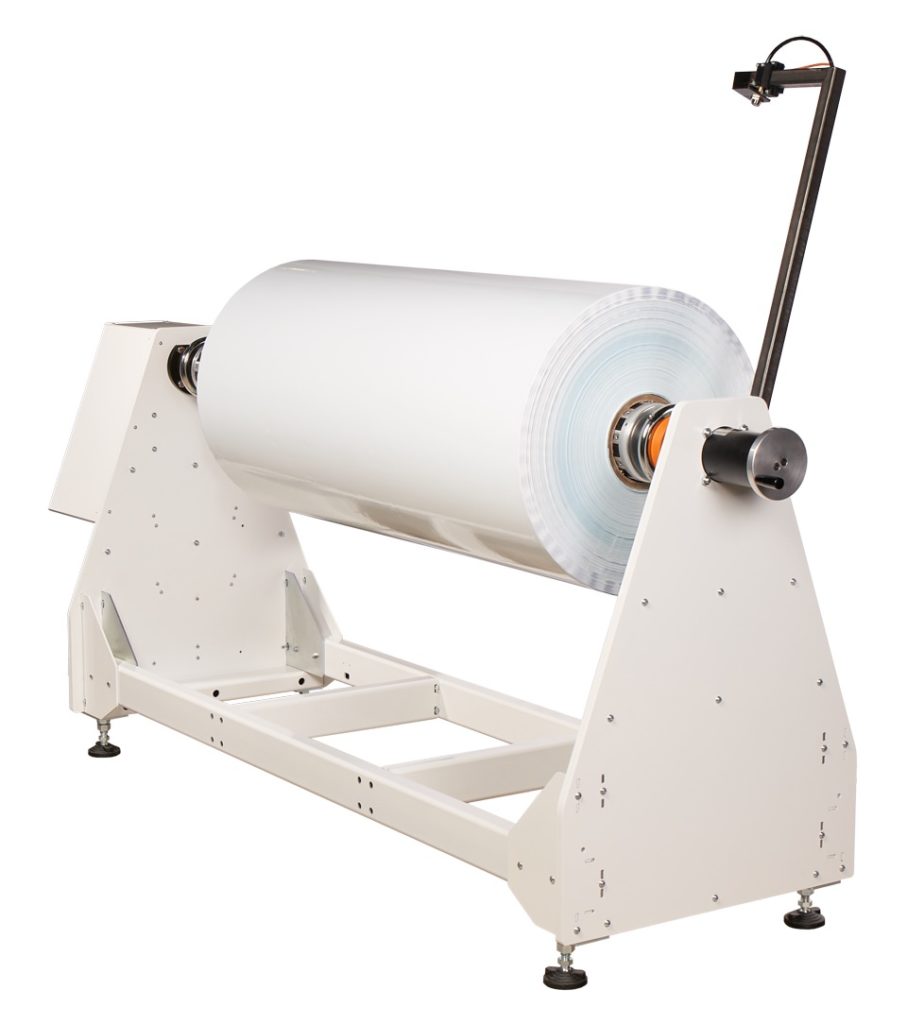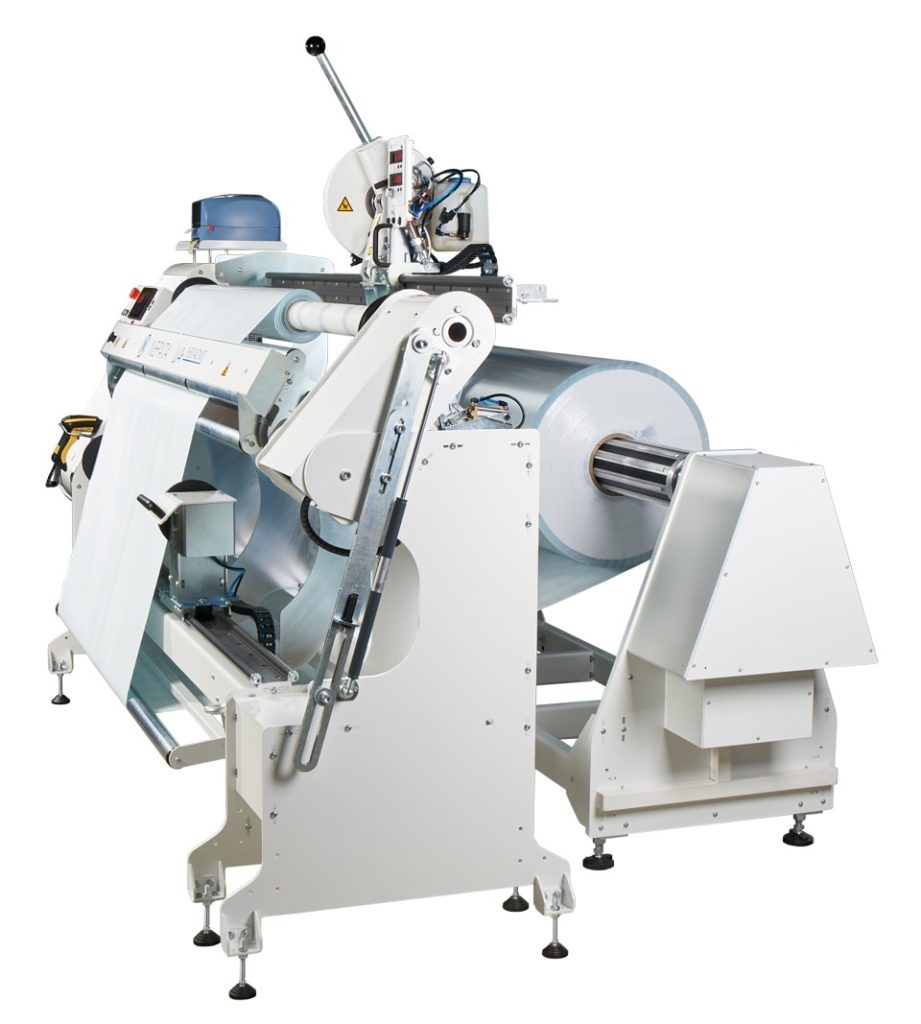 Converting solution with moderate investments
Of course, the use of industrial converting solutions would also be conceivable, large slitters/rewinders as known from the packaging or paper industry. We see two major advantages in our combined solution of rewinder and optional jumbo unwinder:
Use machine capacity flexibly
As a film distributor, you can use part of the machine capacity for series production by adding the Jumbo Companion: you convert the jumbo rolls to standard rolls of 25, 50 or 100 meters. In between, the machine can be used again with the internal unwind as the usual flexible, precise and ergonomic rewinder/slitter for single rolls and special orders without any changeover. The JC models can process a wide range of film materials, papers and nonwovens.

Manageable investment costs
Let's get back to the topic of costs. After all, the aim of the "Jumbo Strategy" is to achieve cost advantages and thus remain competitive. It would make little sense to invest in a completely over-sized machine. For industrial converting machines, slitters, etc. we are talking about amounts in the range of hundreds of thousands to over one million euros. Our solution with the Jumbo Companion can also convert jumbo rolls into short rolls – at manageable investment costs in the five-digit euro range. An amount that will quickly pay for itself, especially if freight prices continue to rise.
A NEPATA rewinder supplemented with a jumbo unwinder has the same result as an industrial converter that is 15 times more expensive.
Conclusion: film trading continues to be profitable with the "Jumbo Strategy"
With a conversion solution from Nepata, complemented by a jumbo unwinder, film retailers can meet the challenges of the current freight cost crisis – and gain decisive competitive advantages in order to be able to continue offering film products profitably.
More in this video
Introduction Nepata JC1650 Jumbo unwinder for UA1650 ADWS and other rewinders or converting centers
Technical data here
Interested? Request a quote here