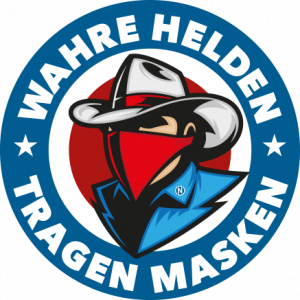 The Nepata Group from Wolnzach, district of Pfaffenhofen a. d. Ilm, manufactures equipment for advertising technology. Because these have hardly sold since the outbreak of the Corona crisis, the company now uses them itself: The employees apply logos or messages to face masks on behalf of companies and municipalities. This should promote acceptance for the wearing of masks – and secure employment in the mechanical engineering company. And facial visors are also made in Wolnzach.
Nepata maintains intensive business relations with China. The mouth-nose masks made of boil-proof fleece or cotton fabrics also come from there. "Our Chinese business friends sent me a pack of masks weeks ago," reports CEO Bernhard Schmidt. "They cannot even understand that it is not yet common practice in our country to wear masks to protect others during the cold season or during epidemics like the one we are currently experiencing."
Without further ado, Schmidt and his team decided to offer everyday masks themselves. Namely, masks with a message. Nepata custom prints the masks for companies and organizations with slogans, emblems or logos. This is intended to motivate employees and customers to wear the masks with pleasure and thus help protect their fellow human beings – whether at the workplace, while shopping or on local transport.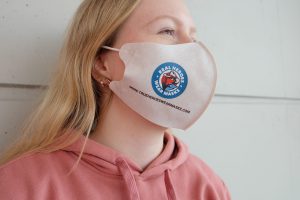 "True heroes wear masks"
"True heroes wear masks" – under this motto Nepata offers the face masks in its own online store. "We don't want to be the next one to make a quick profit from the mask requirement," says Schmidt, describing his company's ethical standards. Therefore, for every order over 500 masks, Nepata donates ten percent of the order quantity to a charitable or medical institution. "It is important to us to promote solidarity, which is expressed by wearing a community mask. But of course it's also about securing jobs for the 35 employees in the Nepata Group," says Schmidt. Only recently, the machine manufacturer brought parts of its production back from the Far East to Wolnzach in the Hallertau region.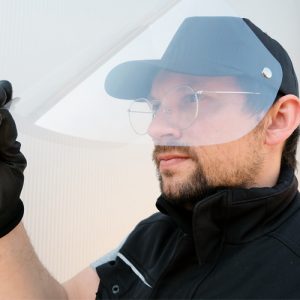 Visors "made in Wolnzach"
Also "made in Wolnzach" is another product that Nepata has recently been manufacturing as a result of the Corona situation: Face visors that can be attached to a baseball cap via snaps or magnets. The shields are made of a sturdy, transparent plastic film and are worn in addition to the masks at work, for example. They additionally retain droplets when speaking or coughing. In addition, the visor prevents you from grabbing your face.
Using machines instead of letting them gather dust
The devices that the company otherwise manufactures are currently lying like lead in the warehouse. Customers all over the world use the machines for film processing, the cutting plotters or transfer presses to apply lettering or motifs to textiles: Jerseys for sports teams, workwear for the catering industry, T-shirts for festivals. Nobody needs all that at the moment – and therefore not the products from Nepata or its Secabo brand. So now they use the machines and the expertise for textile finishing to print the masks or caps and produce plastic visors with their own employees.
Make masks available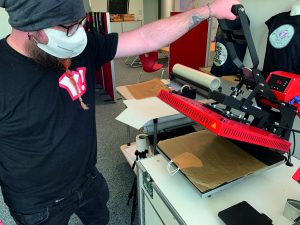 In the meantime, more than 100,000 masks have already been delivered – printed and unprinted. One of the customers is the citizens' energy cooperative in the Pfaffenhofen district. It used the above-budget proceeds from its Lustholz citizen windmill to order 2,000 printed masks for members and the Corona citizen aid group in Pfaffenhofen. 27.000 blank masks were delivered to the city of Pfaffenhofen a. d. Ilm for its citizens.
Supplies are being organized on an ongoing basis. Another 300,000 masks are expected to arrive from China by mid-May. Nepata's good relations with Chinese suppliers can thus help to make sufficient masks available. Says Schmidt: "It won't work with home-made masks alone if we're all going to be wearing masks for months now." And thus all become true heroes.