We again provide closer insights into our team. Today we introduce our application engineer Edwin (nickname: Ääd). He gives you a little insight into his daily work, also in relation to our job posting, because we are looking for an employee in the Technical Support department. That sound appealing to you? Take a look at our videoright now, here you will get a taste of our daily business and detailed information about our job offer. Take a look at what you can expect from us. But everyone else is welcome to learn more about our employees. Let's go!
Who are you and what is your profession?
Do you want me to say my nickname?
Yes of course, with pleasure.
I am Ääd, that is Edwin Kallo. Here I am an application engineer for advertising technology and textile finishing.
How long have you been working here?
I have been working here now since mid-November 2018. Before that, I did a four-week internship, after which I started working here right away.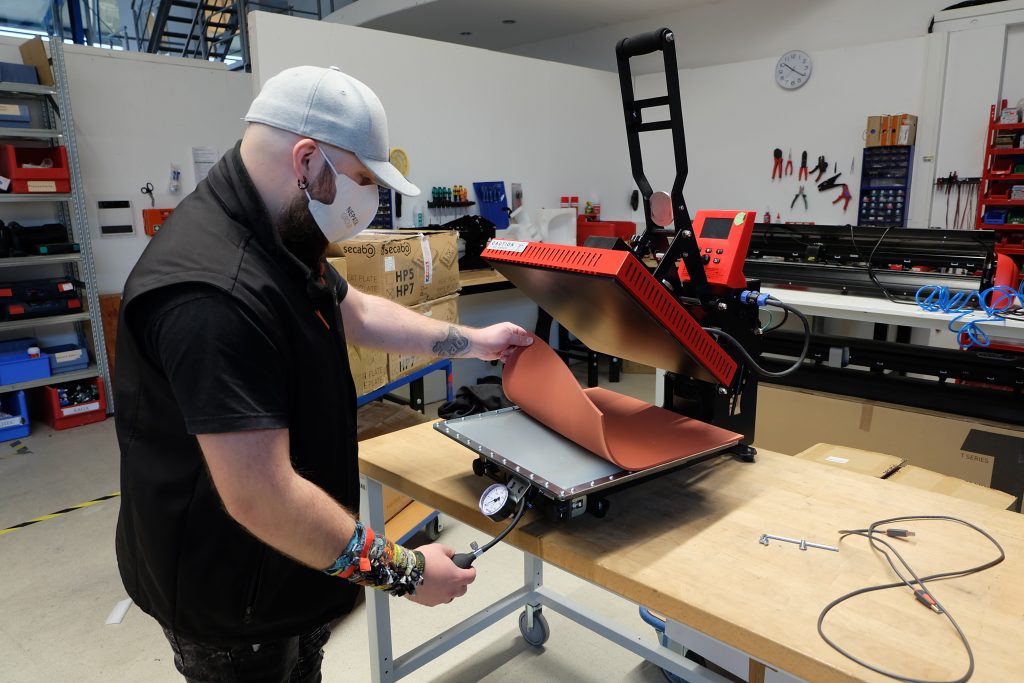 How can one imagine your daily work routine?
This is, of course, very different. No two days are the same because there are always different challenges to be dealt with. I am responsible for various areas/tasks. Ich halte die Schulungen. Then I have to cover all the application areas in our ticket support, i.e. what solutions are there for which problem. In part, I lead the communication with the software manufacturer when we are stuck to see if they have a solution. For transfer orders, one of the things I check is the files. Communication with the print shop is also a point, should something not fit. In the marketing team I help with my knowledge or I'm in front of the camera for application videos, be it for Instagram or for our ticket support. I provide important info for posts and blog articles, in the areas where my colleagues are not so knowledgeable. Of course, I also support the technical department, be it for repairs, inspections or RMA cases. Otherwise, always try to expand the technical knowledge to spread more experience and knowledge to customers. I also like to do projects with internal lettering, like with our company Sprinter, which I completely lettered on my own. And yes, internal embellishments such as in our YOW! Studio are also tasks that I have to do.
So very varied?
Exactly, so also communicate more often with sales and pass on info there, not least when they need my technical knowledge for customers.
Say, you communicate with every department here?
Exactly, even when it comes to cancellations in the transfer area, I have to let the accounting department know and so on. So actually pretty much with every department, yeah.
What makes the Nepata Group stand out for you?
It's not really a small company now, well it's not a big corporation, but it's bigger than what I'm used to in my apprenticeship. There are many colleagues here, different departments. It's simply the advertising technology itself that fascinates me. Here we also have a wide range of machines and possibilities to fully equip the customer in terms of advertising.
So that means the diversity of our company?
Exactly, the diversity. After all, there are different areas in the Nepata Group. Once YOW! Online store, then the manufacturer Secabo and Nepata GmbH with the wrapping machines. We are all colleagues, although we have different areas.
What is your favorite activity here?
My favorite activity? I'll say anything that has to do with projects where I can bring my advertising experience to bear, i.e. with textiles and lettering, I think that's great. That means I'm not just sitting at a desk all the time, but I can let off steam with internal production and testing, including printing masks, for example.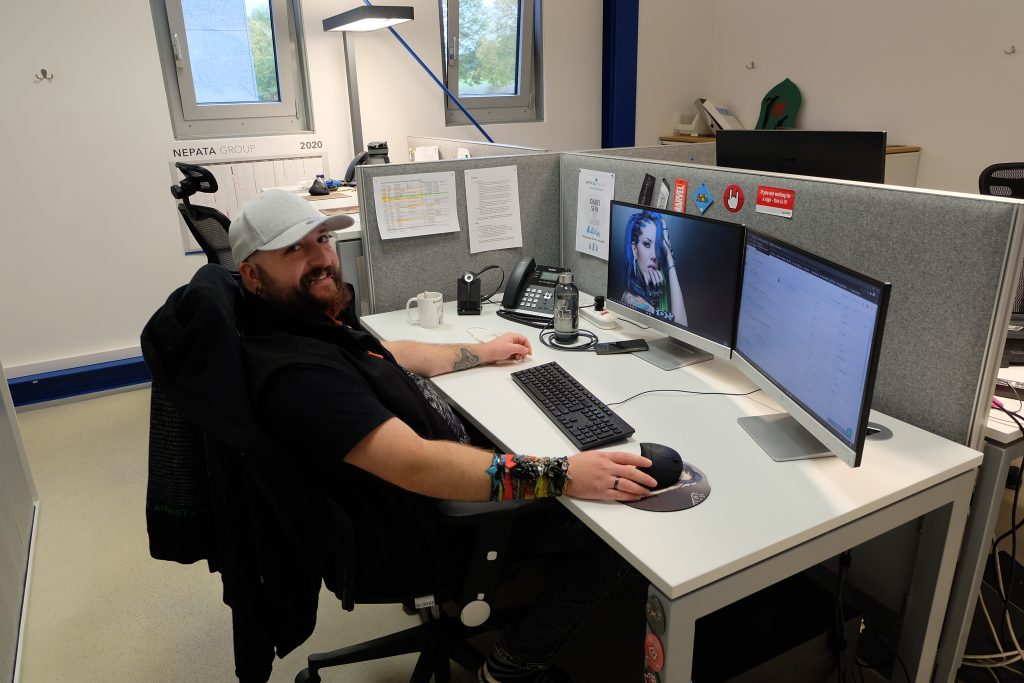 So definitely not a boring job?
Nah, so it's not boring at all. It is very varied. Sure, there are days when it's stressful, but when you get together with your colleagues for a beer in the evening, it's a very nice way to balance things out. Besides, there are stressful phases in every job.
What can your future work colleague look forward to?
Well, he can definitely look forward to a fun and easy-going team that enjoys working together.
And have a beer together?
Yes, it's pretty casual among colleagues. Also, in general, when you say you can talk to the bosses in person sometimes if there are problems. But also work-wise, you don't have to wait over a hundred levels for a response and discuss everything formally. Yes, and as long as the new employee enjoys working with customers and has the desire to help customers, they can definitely look forward to it. Of course, there are also customers who are a little less friendly, but there are also very friendly customers who openly show their gratitude and you are of course happy if you could help them. Yes, that is a good feeling.
Anything else you want to give your future colleague along the way?
Yes, there are certainly a lot of things. You have to be prepared and able to handle it when a customer puts pressure on you. You can't let that get in your way. Everyone does their best as much as possible. As best as we can, try to help. If it doesn't work, then we as colleagues are always happy to help. Otherwise, try to have fun at work and enjoy the time with colleagues after work, when you sit together comfortably after work.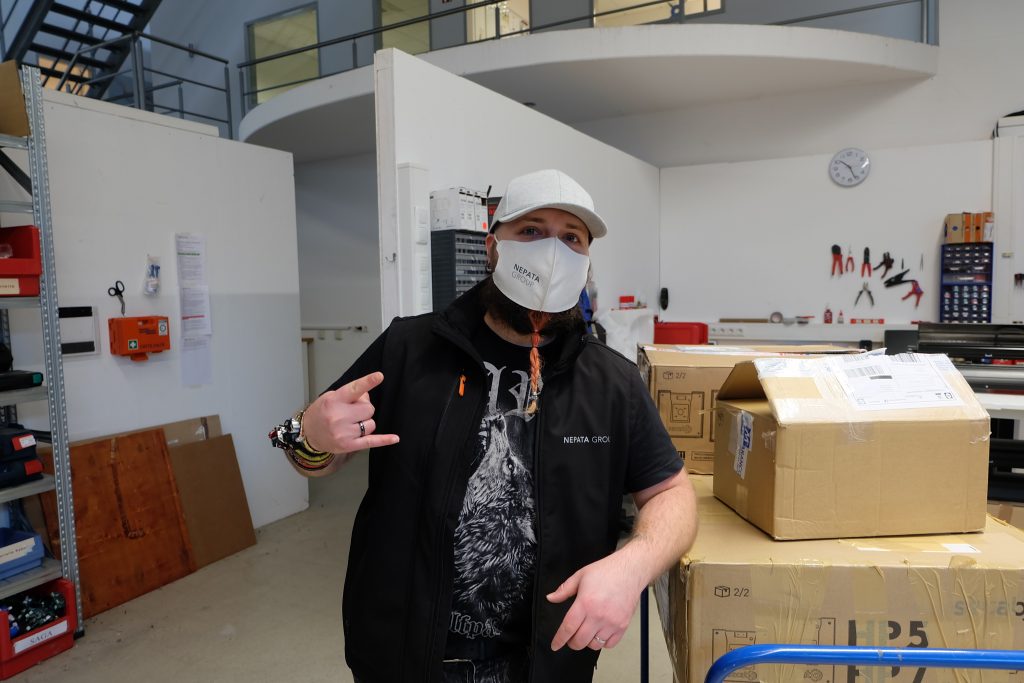 Thank you very much for the interview!