UA1850 E ECONOMY REWINDER WITH 185CM WEB WIDTH
The winding machine UA1850 E now also offers all the well-known virtues of a real NEPATA solution for winding and slitting roll media, such as sign vinyl films, adhesive films, window tinting films, sun protection films, flock films and flex films – with a width of up to 1850mm – to smaller film distributors with a lower daily throughput of individual unwinding and trimming – because E stands for Economy. Like all NEPATA film conversion machines, the UA1850 E winds media very precisely, features a high level of safety and ergonomics for the operator, as well as high productivity thanks to minimal loading times and high web speeds. The winding tension is electronically regulated and adjustable. Upon winding, the film is manually trimmed to length at a cutting edge equipped with a dust cover. The machine is conveniently operated via a touchscreen, which can be used to control all required operating modes and settings, and also features a pneumatic clamping system for 3 inch cores (2 inch optional). The maximum diameter for unwinding rolls is 400mm, while rolls with a maximum diameter of 280mm can be rewound. The maximum rewinding speed is 1.0m/s, the maximum roll weight is 25kg.
The UA1850 E rewinding machine is fully compatible with the ConvertPlus2 software, which allows for faultless control over all conversion processes from your ERP system – customer rolls and master rolls (storage rolls) each receive labels with the corresponding roll lengths and other data.
Like all NEPATA machines, the UA1850 E rewinder represents faultless and precise unwinding of roll media with high productivity, while avoiding errors and waste – all at an attractive price that is well-suited for smaller film dealers and distributors. now that's Economy!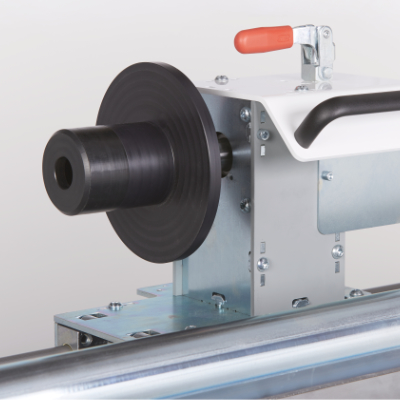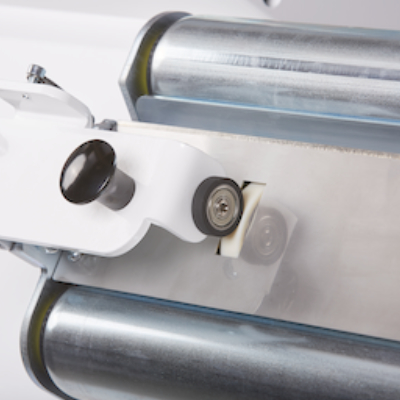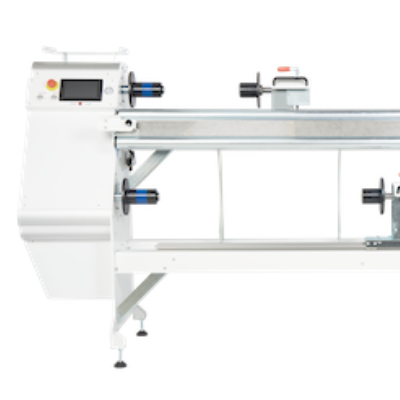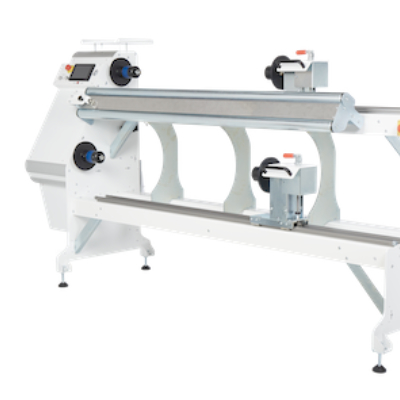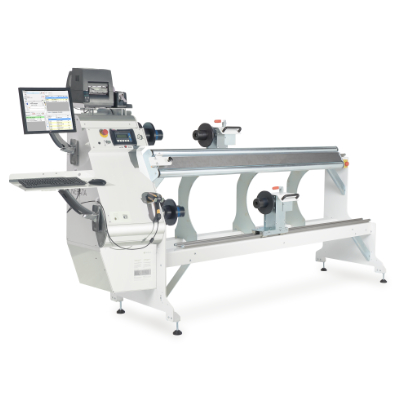 Introduction NEPATA UA1850 E economy rewinder
Winding, rewinding, unwinding, trimming, length-measuring etc. of roll media up to 1850mm wide
Rewinding speed up to 1,0 m/s
Highly precise rewinding of <2 mm/m
Operation via touchscreen
Automatic pneumatic tensioning
Rapid loading thanks to easily movable expansion chucks
Control via ConvertPlus2 software possible – including barcode labels for customer and storage rolls
Quick return on investment, even for smaller film retailers, thanks to error and waste avoidance
​
| | |
| --- | --- |
| Max. Medienbreite | 1850mm |
| Max. Wickelgeschwindigkeit | 1,0m/s |
| Max. Rollendurchmesser Aufwickeln | 280mm |
| Max. Rollendurchmesser Abwickeln | 400mm |
| Hülsendurchmesser | 3" (2" optional) |
| Genauigkeit beim Ablängen | < 2mm/m* |
| Genauigkeit beim Messen | < 2mm/m* |
| Max. Medienstärke | 1mm* |
| Max. Rollengewicht | 25kg |
| Stromversorgung | Wechselspannung 230 V / 50 Hz - 60 Hz |
| Leistungsaufnahme | 1500W |
| Arbeitsumgebung | +5°C bis +35°C |
| Abmessungen (H x T x B) | 1468mm x 535mm x 2845mm |
| Gewicht | 280kg |
MATERIALS THAT OUR MACHINES CAN PROCESS
[icon name="arrow-circle-right" class="fa-1x"] SIGN VINYL, PRESSURE SENSITIVE VINYL
[icon name="arrow-circle-right" class="fa-1x"] SANDBLASTING FILMS
[icon name="arrow-circle-right" class="fa-1x"] MASKING FILMS
[icon name="arrow-circle-right" class="fa-1x"] CAR-WRAPPING VINYL
[icon name="arrow-circle-right" class="fa-1x"] MAGNETIC FILMS
[icon name="arrow-circle-right" class="fa-1x"] FLEX FILMS, HTV
[icon name="arrow-circle-right" class="fa-1x"] FLOCK FILMS
[icon name="arrow-circle-right" class="fa-1x"] WINDOW TINTING FILMS
[icon name="arrow-circle-right" class="fa-1x"] DIGITAL PRINT MEDIA
[icon name="arrow-circle-right" class="fa-1x"] BANNERS
[icon name="arrow-circle-right" class="fa-1x"] PHOTO PAPERS
[icon name="arrow-circle-right" class="fa-1x"] PAPERS
[icon name="arrow-circle-right" class="fa-1x"] WALLPAPERS
[icon name="arrow-circle-right" class="fa-1x"] REFLECTIVE SELF ADHESIVE FILMS
[icon name="arrow-circle-right" class="fa-1x"] MESH