UA 1650
REWINDING AND TRIMMING MACHINE
UA1650 REWINDING AND TRIMMING MACHINE
The highly efficient UA1650 rewinding and trimming machine is an absolute "must have" for film and vinyl manufacturers and distribtutors dealing with rewinding and finishing digital printing media, self-adhesive vinyl, car wrapping and window films, or more narrow flex- and flock films on a daily basis.
Unlike its "little sister" the UA630, the UA1650 offers a maximum working width of 1650mm / 65in. The UA1650 guarantees minimal material waste compared to manual processes. It offers high precision rewinding and trimming of films with an accuracy greater than 1mm / 99.9% per meter. In addition to the internal control unit, length measurement, rewinding as well as the entire production, the control unit can be optionally run via touch PC using the ConvertPlus2 software.
This also supports automatic label printing including bar code for short and master rolls for professional stock management and absolute minimisation of conversion and packaging errors. The sleeve diameter is 3″, 2″ are available as an option. The maximum diameter of mother rolls is 400mm / 16in, short rolls can be wound up to a diameter of 280mm / 11in. The maximum rewinding speed is 1,5m/s / 5ft/s, the maximum roll weight 50kg / 110lbs. For film and vinyl distribution the UA1650 rewinding and trimming machine features impressive productivity and efficiency complete with extensive safety features. With the FastCut feature, the process time can be shortened for sheet cutting via ConvertPlus2.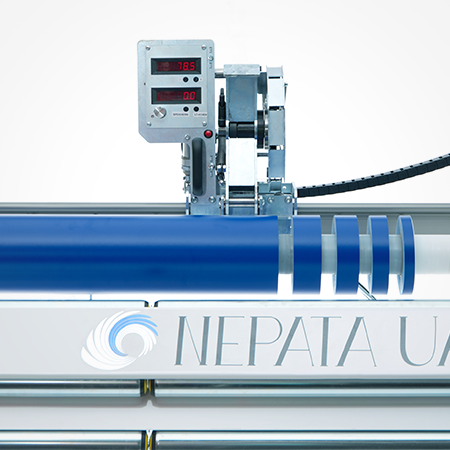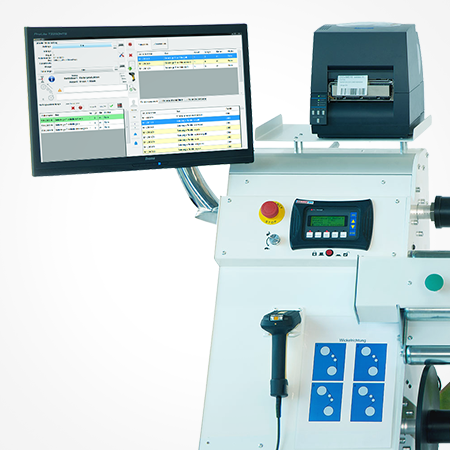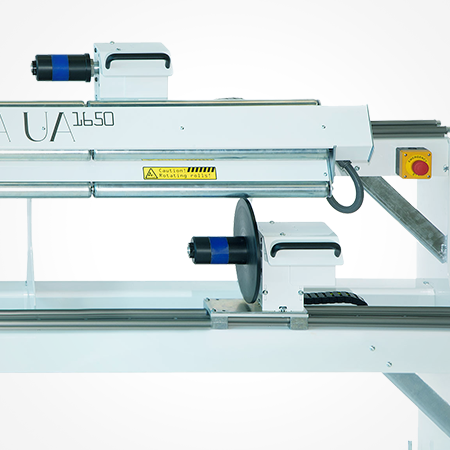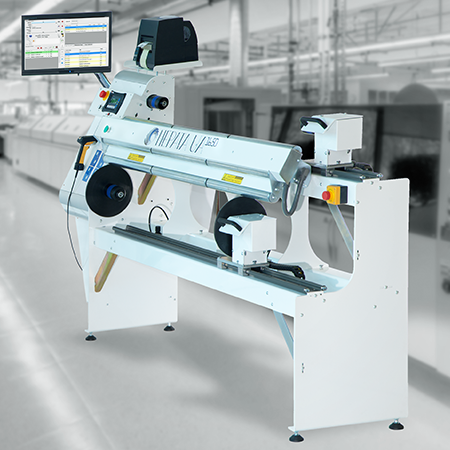 Introduction to NEPATA UA1650 rewinder
Rewinding speed up to 1,5m/s
Rewinding and trimming
as wide as 1650 mm
Control via ConvertPlus2 software
including Barcode labels for customer and stock rolls
Automatic pneumatic tensioning
tensioning
High rewinding accuracy
of <1 mm/m
fast loading
Adjustible tension shafts for
FastCut
for fast sheet cutting (with ConvertPlus2)
​
| | |
| --- | --- |
| Max. Medienbreite | 1650mm |
| Max. Wickelgeschwindigkeit | 1,5m/s |
| Max. Rollendurchmesser Aufwickeln | 280mm |
| Max. Rollendurchmesser Abwickeln | 400mm |
| Hülsendurchmesser | 3" (2" optional) |
| Genauigkeit beim Ablängen | < 1mm/m* |
| Genauigkeit beim Messen | < 2mm/m* |
| Max. Medienstärke | 1mm* |
| Max. Rollengewicht | 50kg |
| Stromversorgung | Wechselspannung 230 V / 50 Hz - 60 Hz |
| Leistungsaufnahme | 1500W |
| Arbeitsumgebung | +5°C bis +35°C |
| Abmessungen (H x T x B) | 1468mm x 535mm x 2645mm |
| Gewicht | 300kg |
| *Abhängig vom verwendeten Material. Wir informieren Sie gerne. | |
MATERIALS THAT OUR MACHINES CAN PROCESS
[icon name="arrow-circle-right" class="fa-1x"] SIGN VINYL, PRESSURE SENSITIVE VINYL
[icon name="arrow-circle-right" class="fa-1x"] SANDBLASTING FILMS
[icon name="arrow-circle-right" class="fa-1x"] MASKING FILMS
[icon name="arrow-circle-right" class="fa-1x"] CAR-WRAPPING VINYL
[icon name="arrow-circle-right" class="fa-1x"] MAGNETIC FILMS
[icon name="arrow-circle-right" class="fa-1x"] FLEX FILMS, HTV
[icon name="arrow-circle-right" class="fa-1x"] FLOCK FILMS
[icon name="arrow-circle-right" class="fa-1x"] WINDOW TINTING FILMS
[icon name="arrow-circle-right" class="fa-1x"] DIGITAL PRINT MEDIA
[icon name="arrow-circle-right" class="fa-1x"] BANNERS
[icon name="arrow-circle-right" class="fa-1x"] PHOTO PAPERS
[icon name="arrow-circle-right" class="fa-1x"] PAPERS
[icon name="arrow-circle-right" class="fa-1x"] WALLPAPERS
[icon name="arrow-circle-right" class="fa-1x"] REFLECTIVE SELF ADHESIVE FILMS
[icon name="arrow-circle-right" class="fa-1x"] MESH