This first of its kind invention avoids plastic waste and its expensive disposal: During the manufacture of self-adhesive films, the coating process, waste material is created. Quality and brand manufacturers can not afford to release films with material defects to the market. Previously, the faulty film rolls required expensive disposal, because the bonded plastic and paper can't be recycled.
The Nepata DL1650 film separator is the worldwide first machine to facilitate automatic delamination: It separates a 50-meter roll in around two minutes. Rolls of up to 350 mm in diameter and 1,650 mm in width can be processed. The DL1650 separates the layers and rewinds PVC film and kraft paper individually. At the film side, this process is coreless, whereby pure material is generated.
The developers paid particular attention to ergonomics and operator safety: Only one person is required for equipping and operating the machine.
This person can conveniently load the film roll from below, for example by using a lifting device. At the end, the machine automatically swivels off the separated materials and pushes them out laterally via a roll conveyor.
From there, the recovered recyclables can be ergonomically removed. A laser scanner gives a warning should a person inadvertently enter the hazard area during operation. During setup, the  expansion shaft is moved by a foot switch in a safe mode.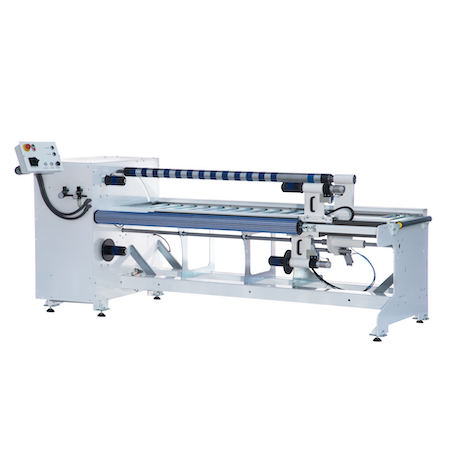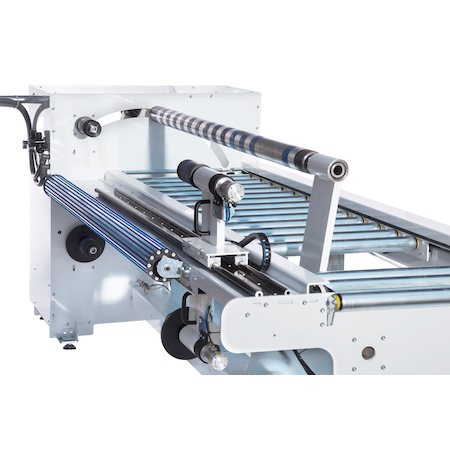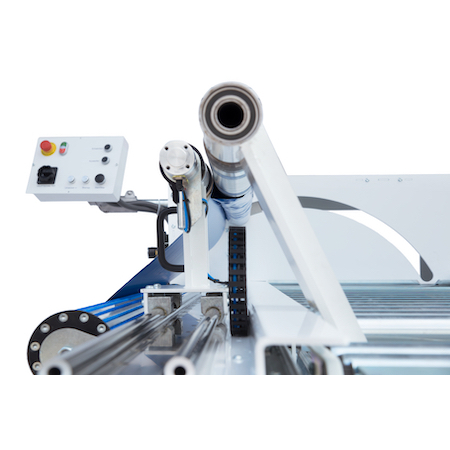 Allows for automatic separation of self-adhesive film on rolls
Pure PVC can be obtained from rolls with manufacturing defects
Flexible working width up to 1650 mm
Rewinding speed of up to 1.0m/s
coreless winding of covering material
automatic swivel off and pushing out of separated rolls
highest level of operator safety
best ergonomics, machine can easily be
operated by one person
| | |
| --- | --- |
| Max. working width | 1650mm |
| Max. roll diameter unwinding | 400mm |
| Max. roll diameter rewinding with core | 350mm |
| Max. roll weight for manual unloading | 25kg |
| Max. roll diameter rewinding coreless | 350mm |
| Max. winding speed | 1 m/s |
| Core diameter | 3" |
| Max. media thickness | 1mm |
| Max. roll weight | 50kg |
| Power supply AC voltage | 230 V / 50 Hz - 60 Hz |
| Power consumption | 1500W |
| Working environment | + 5°C bis + 35°C |
| Machine dimensions only (H x D x W) | 1200mm x 1050mm x 2850mm |
| with roller track and safety fence (H x D x W) | 1850mm x3000mm x 4450mm |
| Weight | 700kg |
| Maximum diameters are limited depending on material, width, required web tension and roll weight. | |